Saturday (12 June, 2010) not only marked the date of Korea's first match in the 2010 World Cup but also the transition between the fourth and fifth months of the East Asian lunisolar calendar (태음력 in Korea, 太陰曆 in Chinese characters). While the fifth solar month is packed full of special days covering a variety of occasions the same cannot be said of its agriculturally-based counterpart. However, what the fifth lunar month lacks in quantity it more than makes up for in quality -- with the festivities of Dano (단오) occupying a special place in the traditional calendar.

Dano takes place on the fifth day of the fifth lunar month (16 June this year) and is a subject I've written about in the past (here and here). Another event that is coming up falls on the tenth day of the fifth lunar month (21 June) -- King Taejong's Rain. (As an aside, 21 June is also noteworthy for marking the summer solstice within the system of lunisolar seasonal divisions.) Continuing with a description of King Taejong's Rain, from Choe Sang-su's Annual Customs of Korea:

( Collapse )

Prior to starting this entry I decided to do a quick web search to see if there might be other information worth including and came across a somewhat surprising result. According to this page from the Korea Tourism Organization (KTO) there is a site near Busan named Taejongdae (태종대) which is "famous for the ritual of praying for rain, performed when there are droughts, and rain on the 10th of lunar May is called the 'Taejong Rain'." All well and good except for the fact that this site gets its name from the Silla Dynasty ruler King Taejong Mu-Yeol (604~661; 태종 무열왕) and not the similarly-named Joseon ruler mentioned in the above passages!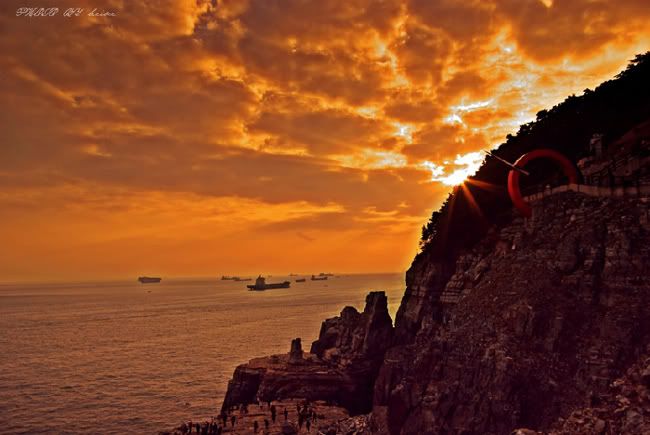 Photo of Taejongdae from Naver 포토갤러리
(
Collapse
)
Finally, the transition between lunisolar months on Saturday was also heralded with a thunder and lightning storm in my current home of Uijeongbu. The city itself has a connection to King Taejo and his son Taejong but I'll save that for another update. In the meantime, here's a video I took of our local weather. A couple of flashes there that highlight the construction work going on at Uijeongbu Station, plus a decent strike at 40" in.


Funny, it just started down pouring rain outside ...