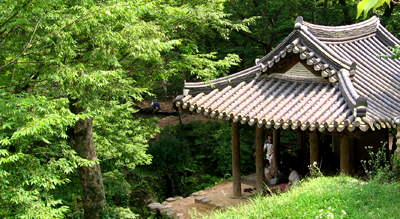 View within Soswaewon (소쇄원) - Gwangpung-gak
One of our stops in Jeollanam-do a fortnight ago was Soswaewon (소쇄원), located within Damyang County (담양군). Damyang is mostly known for its Bamboo Park on the other side of the county - more on that later - but the trip to Soswaewon is definitely a nice way to spend some time relaxing in nature. Soswaewon is a natural garden that was originally built by Yang San-bo (양산보) upon his retreat from a position as Minister of Audit and Inspection in 1519, at the ripe old age of 17 years old.

Part of the reasoning behind his decision comes from the fact that his mentor, Jo Gwang-jo (조광조), died in exile earlier in the year following a large political battle concerning the requirements for civil service officials within the Joseon Dynasty. Despite helping King Jungjong (중종) usurp power from his half-brother in a coup, Jo Gwang-jo was rewarded with banishment to Jeolla Province and eventually poisoned. You can see how a scholar and government official like Yang San-bo would be a little disillusioned with the political environment of the time following that turn of events.

Even today one has to drive through bamboo forests and around a sizable lake before reaching the entrance to Soswaewon. While this makes it a little harder to access, it also adds to the general serenity. The palaces of downtown Seoul offer a dash of green in contrast to the normal gray and neon of the capital's cityscape, but the distant sound of traffic is still there to remind you that 10+ million people are carrying on business outside. Things are much more laid-back in Soswaewon. The 9,900m2 garden is surrounded by a doldam (stone and clay wall) that contains a few buildings but nothing too significant that would detract from the overall feel.

The official page for Damyang County has a bit more information about the site but is not the most user-friendly when it comes to readability. I assume it's a relatively quick translation from the Korean page and in its defense it does get the message across. The site mentions some of the plant types to be found there - the original selection included 7 Korean species, 13 Chinese, 1 Japanese, and 1 Indian - and explains the meaning behind the buildings' names. A write-up by Hwang Doo-jin mentions that Yang San-bo's descendants still own the garden, as he made clear in his will that the land not be sold, and have kept it open to the public.

I have a few more photos posted from Soswaewon here and thoroughly enjoyed soaking my feet in Jeongcheon (정천) on a hot summer day. (And yes, Jeongcheon does get bigger further downstream!) I was disappointed to hear the academy director make a few rude comments on how it was his wife's idea to visit Soswaewon and that stopping there was a stupid idea. Apparently he was expecting something just like the Damyang Bamboo Park and felt that anything else was wasting our time. It's a little sad that he couldn't enjoy the garden as a unique destination on its own. Then again, he spent almost the entire trip taking pictures rather than enjoying the scenery without a camera in the way. To each their own, I suppose, although this topic (photos on trips) is one that I would like to bring up again at some point in the future. Having said that, I think it's time to finish this post and get some shut-eye.
on écoute :

relentless ... "once again"